What is SD-WAN? Software-Defined Wide Area Network
A SD-WAN is a type of computer network that fuses various connectivity options – such as MPLS, mobile, and broadband – into a virtualized enterprise WAN to provide. An SD-WAN differs from a traditional one in how it is deployed and managed. SD-WAN technology is software-driven, in which application awareness is managed from a centralized network point. SD-WAN connects enterprise networks over large geographic areas. A traditional WAN connects users to a branch of the application hosted on the server in the data center.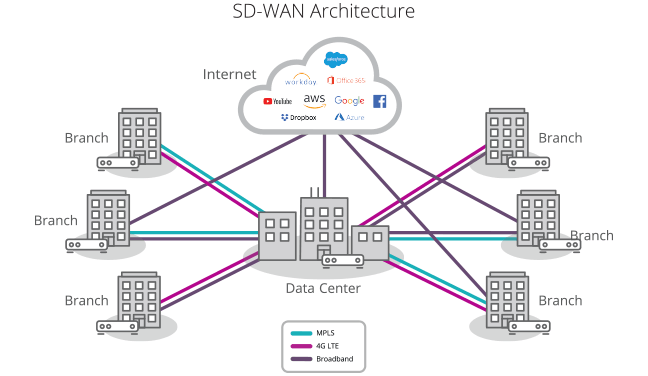 Your growing business relies on your network to run bandwidth-hungry apps and support high data consumption. All of this can take a toll on your network, especially during peak hours. Increasing demand for your network can be challenging. That is why it is important for you to be at the forefront of your business, while we focus on keeping and managing your network secure and scalable. We can help you experience the benefits of a simple, flexible, reliable and cost-effective modern network infrastructure with a managed software-defined WAN (SD-WAN).
– Cisco SD-WAN provides the capability of SD-WAN managed with Advanced Threat Management (UTM). UTM provides multi-layer security to help manage applications and prevent network intrusion through an integrated platform. UTM combines a host of security features including next-gen firewalls, intrusion prevention systems (IPS), anti-virus and URL filtering.
– Cisco SD-WAN provides secure, managed SD-WAN features with an industry-grade next-generation firewall (NGFW). Unlike traditional firewalls, NGFW helps secure networks from malicious attacks such as viruses, spyware, and phishing attacks.
– Cisco Managed SD-WAN helps simplify your WAN environment by setting up integrated overlay aircraft over uneven networks. We provide a center-hosted solution for management that enables your IT staff to remotely enable program edge devices and centrally change network policies in real-time.
What you get with CISCO Services for software-defined networking
SDN Consulting: Develop a forward-looking strategy for your future network by identifying any gaps hindering SDN deployment, determining overall automation requirements, defining an orchestral strategy, and developing a roadmap.
Hybrid SD-WAN Services: Dynamically manage your WAN traffic in combination with multiprotocol label switching (MPLS) and Internet connection, using multiple carriers across multiple geographies.
Integrated Management Infrastructure (IMI) for SDN: Customizable, modular and catalog-based remote network monitoring, management and reporting services to support SDN environments
The Enterprise WAN network challenge is increasing both in cost and complexity. Global enterprises must employ multiple WAN service providers to support their global operations. SD-WAN (software-defined wide area networking) is undoubtedly one of the hottest trends in recent years to hit both the enterprise and service provider markets.
With the goal of helping potential buyers make the right purchase decision, we conducted a survey-backed research analysis on SD-WAN, including research, evaluation, and adoption of the entire SD-WAN, including ideas, costs, and needs. The life cycle of Transition from legacy systems to an SD approach, including analysis, setup, testing, and implementation.
Development of software-defined wide area network
SD-WANs is an amalgam of technologies that are brought together to achieve greater flexibility, efficiency, and capacity for computer networks. The software-defined network began in 2008 as a research collaboration between Stanford University and the University of California at Berkeley that led to the development of the Open flow protocol. Open Flow manages and directs traffic between routes and switches from different vendors. The programming of routers and switches is divided by the underlying hardware.
Today's SD-WAN may feature zero-touch provisioning, central controllers, on-demand circuit provisioning, integrated analytics, and even some cloud-based network intelligence. These new developments allow for better-centralized management and security.
The future of SD-WAN is bright, with the International Data Corporation (IDC) predicting that the SD-WAN infrastructure market will grow at an annual growth rate of 40.4 percent, reaching $ 4.5 billion by 2022.
Why are software-defined wide area networks necessary?
SD-WANs are important because they contribute to solving practical problems for today's enterprise IT teams. Most SD-WAN solutions have taken a software-centric approach, which is either running in a centralized location, with a thin CPE (customer premises device) on the edge, or a UCPE (universal CPE) at the customer location.
Other benefits of a software-defined wide area network include:
Simplified management
reduced cost
Better user experience
Greater protection
Increase branch agility